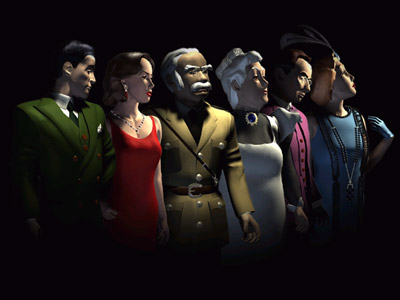 With Seven Brides for Seven Brothers literally about to hit the stage (we open tomorrow – book your tickets!!), we at MDMS are refusing to rest on our laurels (no matter how nice a place they may be to rest) and are getting right into multi-tasking.  If you like what you see onstage at 747, why not consider auditioning for our September show?
We're proud to announce that we are performing Clue: The Musical in September.  We have a fabulously talented production team – our director, Michael Butler, performed the title role in last year's production of Jesus Christ Superstar, and our musical director, Amy Cumming, is making her MD debut after joining the company last year and the committee this year.  Both Michael and Amy are really fired up about this show and have some fabulous ideas.
Clue is based on the board game, Cluedo.  It's a whodunnit kind of musical, with all those familiar faces (Colonel Mustard, Miss Scarlet, etc), weapons and rooms.  The best part is, the audience gets to choose the murderer, weapon and room, so it's a different ending every time!
If you'd like to audition for this seriously cool production, check out the details here and book your audition by emailing auditions@mdms.org.au.  Auditions are on Sunday 10th July; hope to see you there!